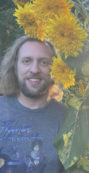 BENTON – Kurt Lane Gregory, 38, of Benton, released on May 20, 2023 at his home after a 9 month fight against Melanoma.
He was born on March 29, 1985 in Urbana, IL to Ronnie and Linda (Roesch) Gregory. He married Carly (Lappin) Gregory on September 17, 2016 at a dear friend's house in Carbondale, IL, where they found each other.
He was a graduate of Hamilton County Senior High in McLeansboro, IL in 2003, Rend Lake College in Ina, IL in 2005 and Southern Illinois University in Carbondale in 2008.
He is survived his wife Carly Gregory of Benton, parents Ron and Linda (Roesch) Gregory of McLeansboro, one brother Kent (Hanna) Gregory of San Tan Valley, AZ; one sister Angel (Jasen) Hawn of Elliott, IL; niece Jada (Katie) Hawn and Eli, nephew Chayton Hawn, father-in-law and mother-in-law Marion and Kelly Lappin of Sesser, one sister-in-law Rae (Ross) Worthey and nieces Jane and Marigold Worthey.
Graveside services for Kurt will be held on Tuesday, May 23, 2023 at 1:00 p.m. at the Smith Cemetery in Buckner, IL. Friends and family are asked to meet at the cemetery.
In lieu of flowers, donations can be made to St. Jude's Children's Hospital. Envelopes will be available at the cemetery.
For more information go to our website www.gilbertfuneralhomes.com.