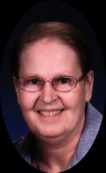 DAHLGREN – Dawn Rae Allen, 70, of Dahlgren, IL passed away on Friday, May 19, 2023 at Mt. Vernon Countryside Manor in Mt. Vernon, IL.
Dawn was born in Mt. Vernon, IL on December 10, 1952, the daughter of Harold & Mary Haile. On May 8, 1970, she married Eddie Ray Allen, who preceded her in death.
Dawn worked at SSM Good Samaritan Hospital in Mt. Vernon for 4 years in Housekeeping and worked as a Direct Support Professional at the Warren G. Murray Center in Centralia, IL. She was a member of the Belle Rive Missionary Baptist Church in Belle Rive, IL and a former member of the VFW Auxiliary. She enjoyed reading, crocheting, playing cards & dominoes, solving puzzle books, and spending time with her family.
Dawn is survived by her mother Mary Haile of McLeansboro, IL; a daughter Susan (Chad) Shull of Dahglren, IL; a son Gordon Allen of Mt. Vernon, IL; a brother Tim (Pat) Haile of Belle Rive, IL; 2 sisters Sharon (Vince) Mitchell of McLeansboro and Christa (Alan) Grewe of Greenville, KY; 5 grandchildren Justin (Elizabeth) Allen of Iowa, Courtney (Spencer) Kephart of Iowa, Sebastian Luttenegger of Iowa, Johnathon Allen of Mt. Vernon, IL and Zakk Allen of Mt. Vernon, IL; 2 great-grandchildren River Kephart and Asher Kephart, both of Iowa, and several nieces and nephews.
She was preceded in death by her father Harold Haile and her husband Eddie Ray Allen.
Funeral services for Dawn Rae Allen will be held at noon on Wednesday, May 24, 2023 at Gholson Funeral Home in Dahlgren, IL with Pastor John Hefner officiating. Visitation will be held from 10:00 a.m. until the time of service at noon on Wednesday at Gholson Funeral Home. Interment will follow the funeral service at Richardson Hill Cemetery in Dahlgren.
In lieu of flowers, memorial donations may be made to the American Cancer Society and will be accepted at Gholson Funeral Home.
Online condolences and expressions of sympathy may be shared at www.gholsonfuneralhome.com.