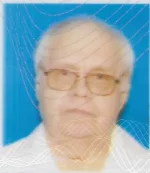 BENTON – Ralph E. Gulley, 85, of Benton passed away Thursday, September 7, 2023, at Baptist Health in Paducah, KY.
He was born in Benton, IL on February 12, 1938, the son of Fred & Lossie (Hutchcraft) Gulley.
Mr. Gulley married Stella Mae Hall on July 1, 1960, in Benton, IL and she survives.
Mr. Gulley worked for Sherwin-Williams and he retired from U.S. Can Company. Mr. Gulley loved to hunt & fish.
Mr. Gulley is survived by his:
Wife: Stella Gulley of Benton
Daughter: Robyn Vinson & husband Danny of Sparta
Son: Steve Gulley & wife Debra of Logan
5 Grandchildren:
Tiffany Meyer
Samantha Odle
Breanna Gulley
Jaclyn Gulley
Melissa Gulley
9 Great-Grandchildren: Noah, Emma, Jase, Hadley, Eastyn, Mason, Maddie, Paizlee & Kendall
Sister-in-law: Elizabeth Gulley of Benton
Mr. Gulley was preceded in death by his parents, son-Scott Gulley, brother-Fred Gulley and grandson-Justin.
Funeral services will be held at 2:00 p.m. Monday, September 11th at the Morton & Johnston Funeral Home in Benton. Burial will be in the Masonic & Odd Fellows Cemetery in Benton. Visitation will be from 11:00 a.m. to 2:00 p.m. on Monday at the funeral home.
For more information or to send online condolences, please visit www.mortonjohnstonfuneralhome.com.