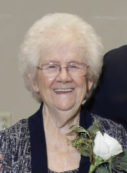 SESSER – Linda Lou (McBride) Acosta, 85, of Sesser, IL passed away on May 22, 2023.
She was born on January 8, 1938 in Sesser, IL to Lionel and Ethel (Walker) McBride. She was married to Alfonso Acosta and he preceded her in death on April 17, 2018.
She was preceded in death by her parents, husband, three siblings Mary Louise Ragland, Mona Lou Guziejka and Austin A. McBride; one son Donald Biard "Fonz" Acosta and one grandson Matthew Acosta.
Linda was a homemaker and caretaker for many people, but she also worked for National Battery, Olin Mills, Burns Security, Central Dispatch, Celebrity Boats and Mariah Boats.
Linda enjoyed playing cards with her grandkids and bingo with her many friends. She also enjoyed fellowship and meals with brother Larry and sister Linda Cook. Her kitchen was always open.
She is survived by three sons Alfonso Acosta Jr., Kevin Acosta and Dale Acosta; one daughter Susan (Acosta) Payne and her husband Harlan; seven grandchildren Anthony Acosta, Jared Acosta, Cash Acosta, Dalton Acosta, Sarah Acosta, Dillon and Tara Payne and Justin Payne and one great grandson Gavin Michael Johnson.
Graveside services will be held on Saturday June 3, 2023 at 10:00 a.m. at the Mitchell Cemetery in Sesser with Brother Larry Cook officiating. Family and friends are asked to meet at the cemetery.
The family would like to thank neighbors, family and friends for their prayers, phone calls and food that they have given to the family during their time of need.
For more information go to our website www.gilbertfuneralhomes.com.