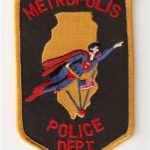 METROPOLIS – The following information was released by the Metropolis Police Department on Monday, February 13, 2023.
February 9, 2023
Robert D. Hooks, 41, of Golconda was arrested in the parking lot of Sonic. Hooks was wanted on a warrant. The warrant was issued by Pope County, IL for Burglary. Hooks was lodged in the Massac County Detention Center.
February 12, 2023
A Metropolis sergeant observed a white Chevrolet pick-up traveling northbound on Ferry from E. 5th St. The truck was clocked on radar at 45 mph in a posted 30 mph zone. A computer check showed that the driver, Robert L. Brenningmeyer, 20, of Metropolis had a suspended driver's license. Brenningmeyer was charged with the offenses and released on bond.
The preceding information pertains to an arrest made by the Metropolis Police Department. This arrest was made on the basis of probable cause and all arrestees are presumed innocent until proven guilty.